Fast teeth whitening
Teeth Whitening in Jersey
10% OFF LIMITED TIME OFFER!
What is teeth whitening treatment?
Unfortunately, over time, your teeth can become stained and discoloured from various factors such as ageing, smoking, and consuming foods and beverages that are known to stain teeth. Teeth whitening at our Jersey Practice is the antidote. It's a quick dental procedure that can improve the colour of your teeth, making them look healthier and more youthful.
At Indigo Dental Practice, not all kinds of teeth whitening are effective for all types of stains, crowns or veneers. To ensure optimal teeth whitening results, one of our dentists will conduct a comprehensive dental exam to identify the cause of your teeth discoloration. Your diet and medication can impact the effectiveness of your teeth whitening treatment, so we'll discuss that with you too. We offer the best teeth-whitening technology on the market. They are Polanight Whitening and Enlighten teeth whitening systems. They both involve a whitening gel being applied to the teeth for a number of hours to brighten them.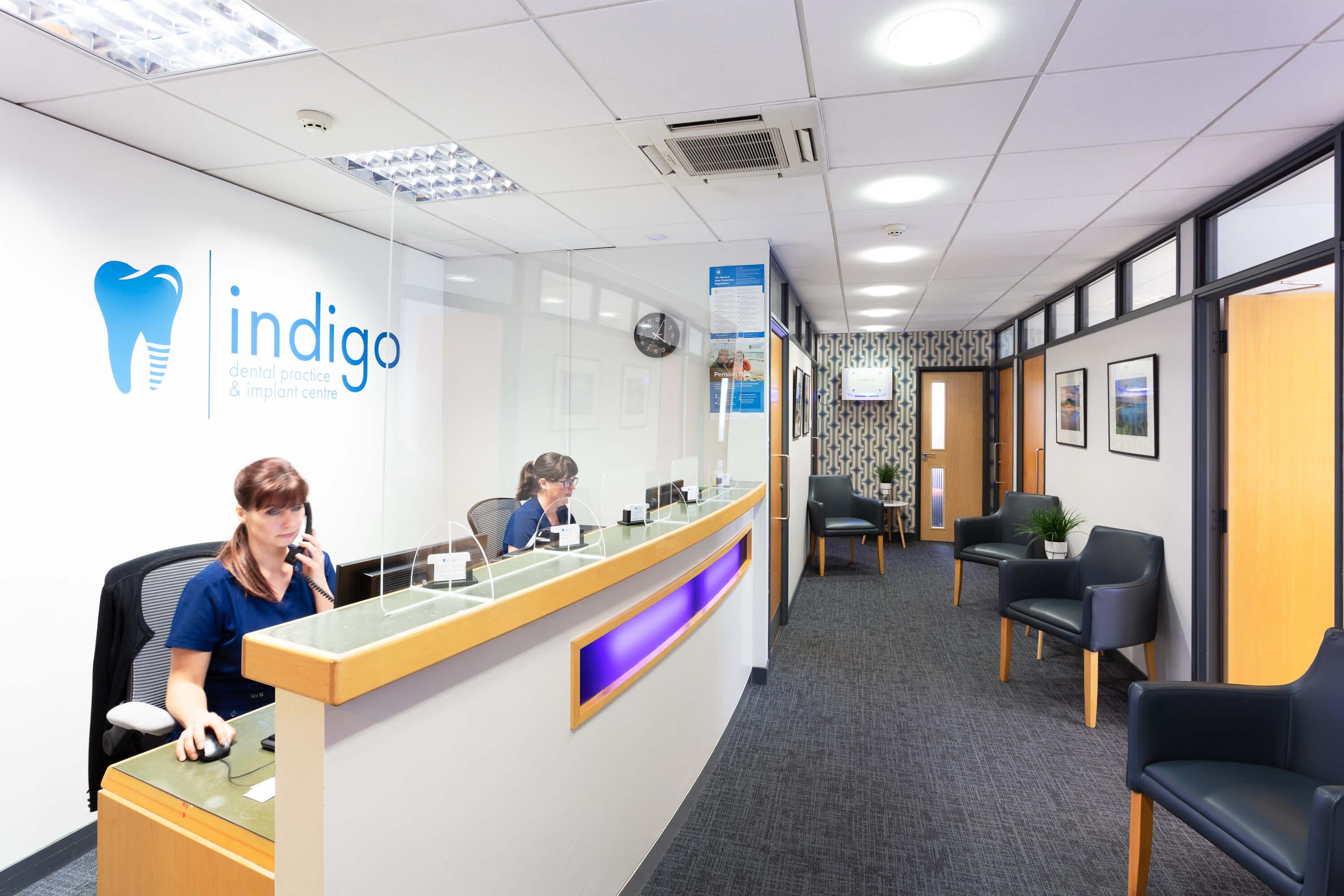 What are the benefits and risks of having your teeth whitened?
Teeth whitening at our Jersey Dental Practice can remove the stains and discolouration caused by smoking, drinking coffee or red wine, and certain medications. It can also help undo the signs of ageing, where the teeth have become dull and yellow. This is a cosmetic dental procedure that aims to enhance the appearance of your teeth by lightening their shade, leading to a consequent improvement in self-confidence, a brighter smile, and a more youthful appearance.
However, there are also some risks associated with teeth whitening, especially if you're doing a treatment that isn't dentist-led. The most common side effects are tooth sensitivity, and gum bleeding, which can occur during and after the procedure. This happens because the whitening agents used in the procedure can penetrate the enamel of your teeth and irritate the nerves underneath.

Teeth whitening consultation
During your consultation at our Jersey practice, one of our dentists will assess your current dental health and determine if teeth whitening is a suitable treatment option. They will examine the teeth for any signs of decay, gum disease, or other issues that may affect the whitening process. You will be asked about your oral hygiene routine and any previous dental work you have received.
There will then be a discussion about how the process works and the expected results, as well as how to properly care for your teeth after the treatment to maintain the results. Any questions you may have will then be answered. Should you need any gum or teeth work prior to your whitening treatment, your dentist will talk to you about that too.

Teeth whitening treatment
During your teeth whitening treatment period at our Jersey Dental Practice, you will apply a specially formulated whitening gel to your teeth, via a custom tray that has been made to perfectly fit your mouth. This tray should be very comfortable. The gel will remove any stains or discolouration on your teeth. With Enlighten, you'll have an in-house dental appointment, then the process typically takes 3 weeks to complete, depending on the extent of the staining or discolouration. Polanight Whitening is an at-home whitening treatment that will be guided by your dentist.

Teeth whitening aftercare
After undergoing a teeth whitening treatment, it is important to follow certain aftercare instructions to ensure that the results last longer. We usually recommend avoiding foods and drinks that can cause staining, such as coffee, tea, red wine, and dark-colored fruits for at least 24 hours after the treatment. Smoking should also be avoided as it can cause discolouration of the teeth.